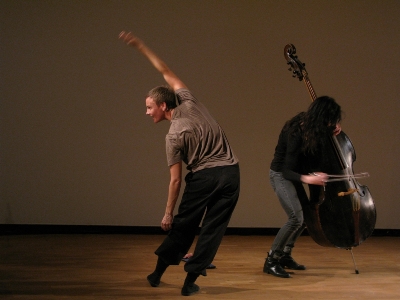 During the ISCM/Listen to the World festival in September/October 2009, Dance'nBass was invited to embark on a satellite mission.
Anna & Nina performed during BRUK at the Not Quite Collective in Fengersfors.
Following this, during the Art Sound Weekend in Gerlesborg, they shared an evening with the duo Lotta Melin & Guro Skumsnes Moe. Lotta , a choreographer from Stockholm, performed here as a dancer, and also played the theremin, interacting with Guro, who's personal bass-playing was enhanced by various electro-acoustic devices. Guro is one of Norway's many young and talented bass players.
These two duos also participated in ISCM's last weekend in Göteborg at the Museum of Design, Röhsska. The performance was a well-attended matinée.