Pustervik 5 pm
[twocol_one]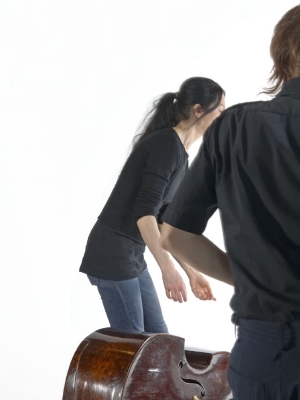 [/twocol_one]
[twocol_one_last]A public showing presenting the participants in the Youth Course: after a three-day-long workshop held by Maria Mebius Schröder and Steinar Raknes, the students give us inspiring examples of how a new generation of dancers and musicians can perform.
Free entrance and free improvisation!
[/twocol_one_last]
[hr]
Pustervik 7 pm
The evening continues with three duos:
Rozemarie Heggen & Hisako Horikawa
[twocol_one]Rozemarie Heggen is the bass-player from Amsterdam, who, after years of playing the clarinet, understood that double bass was her instrument. She has worked with many of the bigger Dutch orchestras, playing both classical and contemporary music. She has also been a member of the punk/rock band the Ex. Nowadays exclusively working in the field of improvisation and contemporary music, often in collaboration with dancers, for instance as a member of the stage-art collective Magpie Music Dance Company.
When Dance'nBass invited Rozemarie and asked her with whom she would like to collaborate, she said Hisako Horikawa.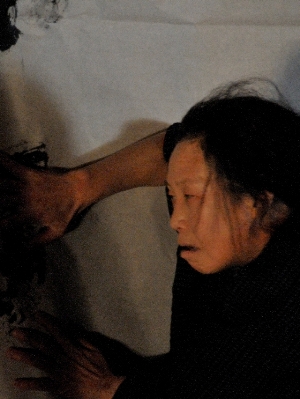 [/twocol_one]
[twocol_one_last]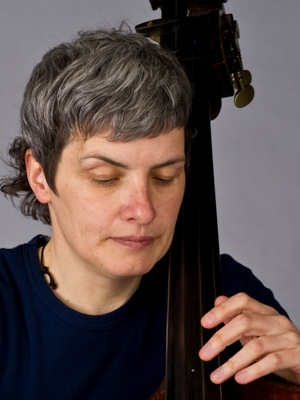 Hisako Horikawa is a Butoh-dancer from Japan. After studying with legendary Min Tanaka she was part of the Maijuku dance company, and she lived on the Body Weather Farm for many years. She is now living in Niigata, working mainly with solo-performances in collaboration with musicians and artists. She often performs on the streets of run-down urban environments where she creates her dance interacting with the architecture and the people who live there. Dance'nBass is lucky to catch her on her way to New York where she will be teaching. [/twocol_one_last]
[hr]
SichtLaut Trio
SichtLaut is a trio with a musician, a dancer and a double bass… – You will get it when you see them!
[twocol_one]SichtLaut consists of the dancer Geraldo Si, from Brazil, who came to Europe to work with Pina Bausch and Tanz Theater Wuppertal. Geraldo is currently working in his own group x.x.y theater and being for many years inspired by the collaboration with the Indonesian gesture/movement artist Suprapto Suryodarmo, he now almost exclusively dedicates himself to improvisation.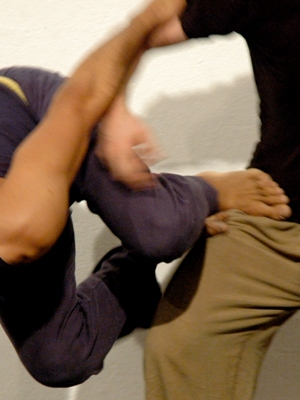 [/twocol_one]
[twocol_one_last]
Double bassist David Leahy, has, just as Geraldo Si, had a long journey, both geographically and artistically. Educated as a bassist in New Zeeland, he has, through playing folk-music, jazz and early-music, landed in England and found his expression best in improvisation. Exploring this field he includes his talents as a performer and dancer.
SichtLaut gives us humoristic turns and unexpected grasps.
[/twocol_one_last]
[hr]
Anna & Nina
Saturday evening, Anna Westberg & Nina de Heney, the festival's originators, will be performing a shorter act.
[twocol_one]Anna Westberg dancer, based in Göteborg, and with Nina de Heney initiator and artistic director of Dance'nBass. After a classical ballet education, Anna has continued to develop her movement expression with release and somatic techniques. Since her first meeting with Julyen Hamilton in 1989, her focus has primarily been on the art of composing in real time.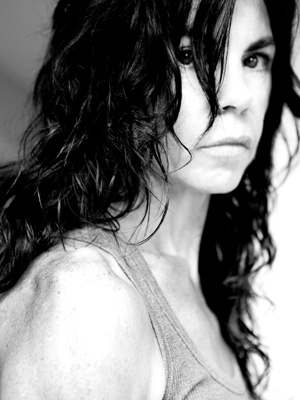 [/twocol_one]
[twocol_one_last]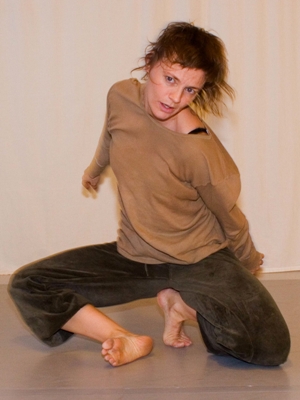 Nina de Heney double bassist, grew up in Switzerland. Having lived more than half of her life in Sweden, she has now established herself as one of the most interesting names on the Swedish improvisation scene. Nina has done none less than three solo albums: Archipelago (2007), 2 (2009) and Three, a double cd album released earlier in 2011. She is active in several groups and can often be seen in collaboration with dancers. [/twocol_one_last]