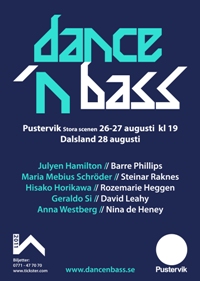 The 2011 Festival was Dance'nBass most comprehensive, with workshops and performances for a full week in August, and the participation of artists from eight different countries.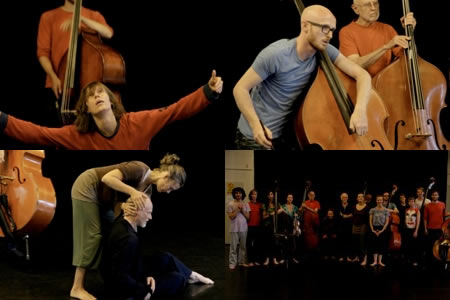 Four-day Masterclass for professional dancers and double bass players, in cooperation with Dansalliansen and Musikalliansen. Two of the improvisational world's most renowned artists, Julyen Hamilton and Barre Phillips, were the teachers. The workshop ended with an open showing at Danscentrum studio in Gothenburg.
The festival's first show opened with a ritual by David Sperling an excerpt from his acclaimed performance Opus 5.
Thereafter, a new duo performing for the very first time, at the initiative of the festival: dancer Maria Mebius Schröder from Gothenburg along with the singing bassist Steinar Raknes from Oslo.
Dance artist and poet Julyen Hamilton returned to Gothenburg for the first time in fifteen years, this time in company with double bassist Barre Phillips. They presented an hour of amazing improvisational performance. Julyen is an Englishman living in Spain, Barre is an American living in France.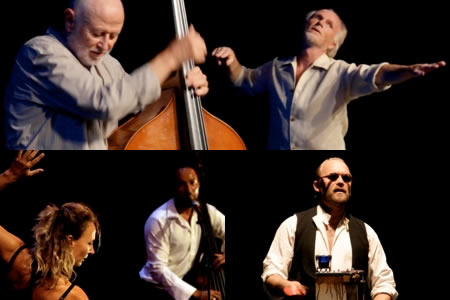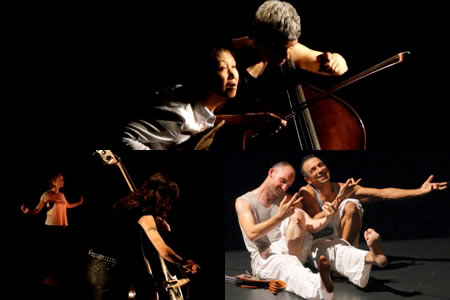 Saturday's show offered a short act by the festival's initiators Anna Westberg and Nina de Heney.
Butoh dancer Hisako Horikawa came all the way from Japan to reunite with bassist Rozemarie Heggen from Amsterdam. They presented a piece of playful and heartfelt butoh, where the double bass became a full-fledged orchestra of sound.
Berlin-based Geraldo Si (BR) and London-based David Leahy (NZ) have a joint project called SichtLaut Trio. They present performance art where we no longer know who is the dancer and who is musician, what is body and what is an instrument.
On Sunday, the festival's final day, the audience was invited on a journey through the beautiful summer landscape of Dalsland, with a charming old train from the 50's.
In Dals Långed Hisako Horikawa and Rozemarie Heggen performed for a big and enthusiastic crowd in Mustadfors Community House. The train then continued to Bengtsfors and the old cinema Odeon, where Maria Mebius Schröder and Steinar Raknes charmed the audience with their sensual appearance on the shining parquet floor of the dance hall. This was followed by SichtLaut Trio (Geraldo Si & David Leahy) in a visually stunning show, in collaboration with light and set designer Johan Rödström.
The festival ended in a magnificent and intimate fashion, in Skållerud church from the 16th century. After a magical walk from the train through the woods, accompanied by church bells, the audience attended a concert of music, movement, improvised poetry and spoken word, by Barre Phillips and Julyen Hamilton.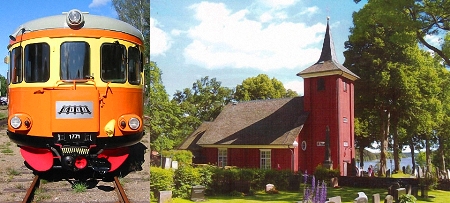 Artistic Directors: Anna Westberg & Nina de Heney
Photo & Video: Astrid Askberger
Light design [Pustervik]: Sara Henriksson
Light design [Dals Långed]: Viktor Wendin
Light design [Bengtsfors]: Johan Rödström
Webdesign: Mats O Hanssson
Assistant: Elsbeth Berg
Economy: Maria Svensson/Culture Clinic
Thank you Atalante, Barbro Erlandson Bratt at Stenebyskolan, Helena Rung at KiV and the volunteers
The festival 2011 was supported by
Wilhelm and Martina Lundgren Foundation.