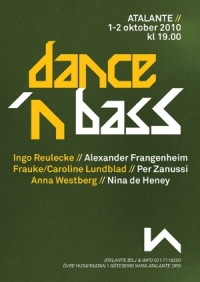 Dance'nBass guested once again Atalante, and, in collaboration with Atalante, presented a mini-festival consisting of three different duos .
Anna & Nina performed a short act.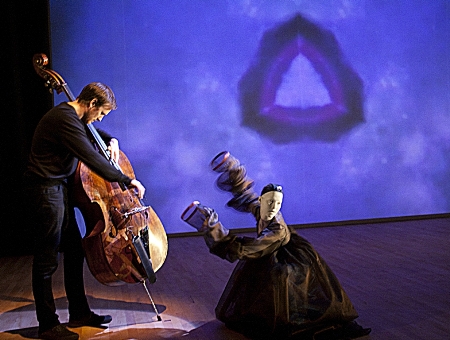 Göteborg-based butoh-dancer Frauke/Caroline Lundblad collaborated for the first time with Norwegian bass-player Per Zanussi, at the initiative of the festival. During their week at Atalante, they created a joint performance. Using video projection, Frauke presented strong visual elements combined with very distinctive costumes in a personal Butoh-style. Her expression met Per Zanussi's sensitive and receptive bass-playing, which he processed on stage with electronics.
Costumes by Matilda Larsson
Video by Eric Length.
In deep contrast to this, the Berlin duo with Alexander Frangenheim on bass and the dancer Ingo Reulecke, a wild and crazy pair who have been working together for ten years as a duo and in other constellations.
For many years, Alexander has organized and curated the improvisation festival Concepts of doing, Interaktion Tanz Musik in Stuttgart..
Ingo is an active dancer on the Berlin improvisation scene, and he is also head teacher of the Ernst Bausch Art College.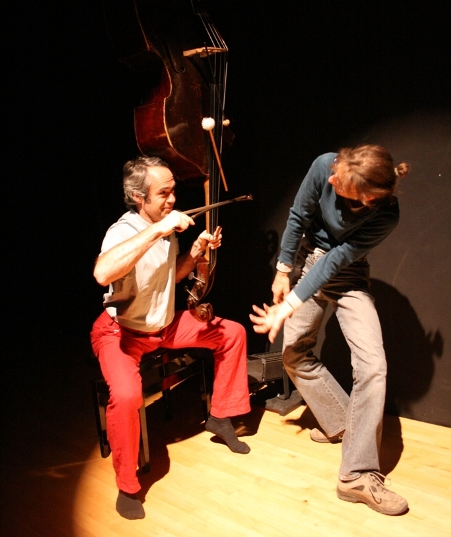 Lightdesign for all the acts: Viktor Wendin.
Photographer: Karin Jonson